under restyling November 2012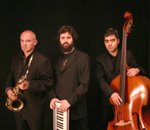 The main concept behind DMA's musical project is to merge jazz music with different kinds of "urban music" like hip-hop, funk, acid and nu jazz, and also with ethnic and world music.
DMA, since their birth in 1995, have gained a large international cult following, having played in Jazz festivals around the world: Canada, Spain, Mexico, Jamaica, Antilles, Greece, Estonia, Germany, Lithuania, Venezuela, Switzerland, Slovenia and Croatia.
DMA's creative unit is composed by venetian saxophonist Marco Castelli (founding member), by Brazilian bassist Edu Hebling and by pianist Alfonso santimone, also working on samples and electronics.
DMA's cd "URBAN VOX"
Electronic and acoustic sounds, creative intensity and energy, all the DMA's usual "UrbanJazzFunk" lexicon mixed up with "sonic bits" coming from poetry, culture and literature.
The "Urban Vox" (urban voices) of this cd's title are the voices of some of the greatest personalities of the XXth century.
You'll hear the voices of William Burroughs, Bill Laswell, Andy Warhol, Maurice Bejart, Carmelo Bene and Cannonball Adderley, plus some quotations from Jorge Luis Borges, all taken from the Web.
"Urban Vox" is about cities, is about jazz (and funk, too!), is about the North and the South of the planet (the cover shows a picture of Mexico City's traffic); "Urban vox" is about the creative minds of the last century and the positive energy that still flows in the veins of contemporary Jazz music.
"Urban Vox" is out on the Blue Serge label, distributed by EGEA.

DMA Urban Vox
Marco Castelli-sax
Edu Hebling-bass
Alfonso Santimone- piano & electronics
with
Marco Andrighetto- drums
Leo Di Angilla- drums(3,6)