Marco Castelli New Organ Trio
Bandorkestra.55
Marco Castelli Mambo & Swing Band

Marco Castelli Small Ensemble
Company Il Posto/Vertical Dance
The basic assumption driving the BandOrkestra project is to make a permanent music laboratory, with changeable members and sound, and a dynamic work in progress.
The BandOrkestra.55 is not an usual Jazz Big Band, but a gathering of musicians playing a repertoire that moves freely between latin, swing, boogie, ska and ethnic music. The Band plays both original compositions and standards.
The BandOrkestra is a kind of modern Band, offering varied, energizing, entertaining performances.
The bandleader and conductor, the saxophonist Marco Castelli, drives the orchestra between arranged music and "controlled collective improvisations". The BandaOrkestra has been created in 2002 and resides in the "Casa della Musica" in Trieste - Italy.
Marco Castelli skillfully leads a quartet of hot musicians. Lovers of Swing, Cha-cha and Mambo, virtuosos with a
penchant for entertainment and dance, they bring back the atmosphere and the excitement of the great parties of the 20s.
Their repertoire is ranging from Swing to Boogie and Boogaloo, from Ska, Reggae and Afro, to Latin orchestra sound.
The group enlivens parties at Cipriani's "Harry's Bar" and elsewhere since many years, with a driving sound, featuring
music by Duke Ellington, Cole Porter, George Gershwin, Henry Mancini, Perez Prado, Louis Prima and others.
Marco Castelli alternates since many years jazz concerts and recordings with an activity of composer and performer of music for theatre, ballet, video, sound environment and multimedia performances.
The Marco Castelli Small Ensemble is the group used for such performances. It can range from solo sax and live electronics up to a 20 saxophones orchestra. It performs original music, always composed for specific occasions or on commission.
The Ensemble often jointly performs with the vertical dance company "Il Posto" led by Wanda Moretti, choreographer.
Among other projects in this area, Marco Castelli has composed music for videos and for theatre and he has collaborated with Alda Merini, poet, Paolo Puppa, playwright, Alessandro Baricco, Vitaliano Trevisan, writers.
Company Il Posto/Vertical Dance
Il Posto + Marco Castelli Small Ensemble
concept and choreography by Wanda Moretti
music for saxophone and live electronics by Marco Castelli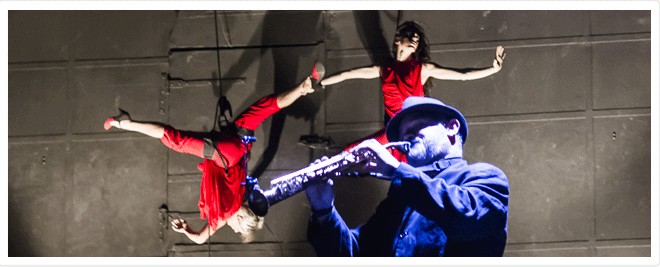 www.ilposto.org

The Vertical Dance Company Il Posto is a project conceived in 1994 by the choreographer Wanda Moretti and the musician Marco Castelli, and it is based on the interaction between dance, music and architecture.  Over the years the performance has developed into different choreographies on the façades of buildings, bridges, towers, lighthouses, cloisters, historical palaces, but also theatres, museums and industrial buildings. Il Posto Company has taken part in important international festivals and events such as Singapore Arts Festival, International Festival Bangkok, La Defense Paris, Doha in Qatar, Paranà in Brazin, Kuopio in Finland, Gaborone in Botswana, Salonicco in Greece, Lugar a Dança in Lisbon, Silkeborg Performer House- Denmark, FoolsFestival in Belfast, Festival Des Arts Vivant 2009 in Rabat, Mittelfest in Italy , Roma in Scena etc